Solar Lights Provide Security for Travelers and Wildlife
SEPCO worked with the Kona Airport in Hawaii to complete a solar parking lot lighting project for their long-term parking. The lights had to be dark sky approved, not interfere with the telescopes nearby at the observatory, and not disturb the local wildlife. This wasn't a challenge for the adaptability of a SEPCO solar lighting system. SEPCO just used a low-pressure sodium lamp with a full cut-off shoebox fixture and was able to provide the necessary lighting and meet all the other needs of the project.
The problem was, they needed a cost feasible solution for their remote parking lot. SEPCO was able to provide an immediate solution that saved the airport money while also giving them a green alternative to bringing out the standard power to this location. The airport was able to save on utility costs while also helping to preserve the beautiful Hawaiian environment.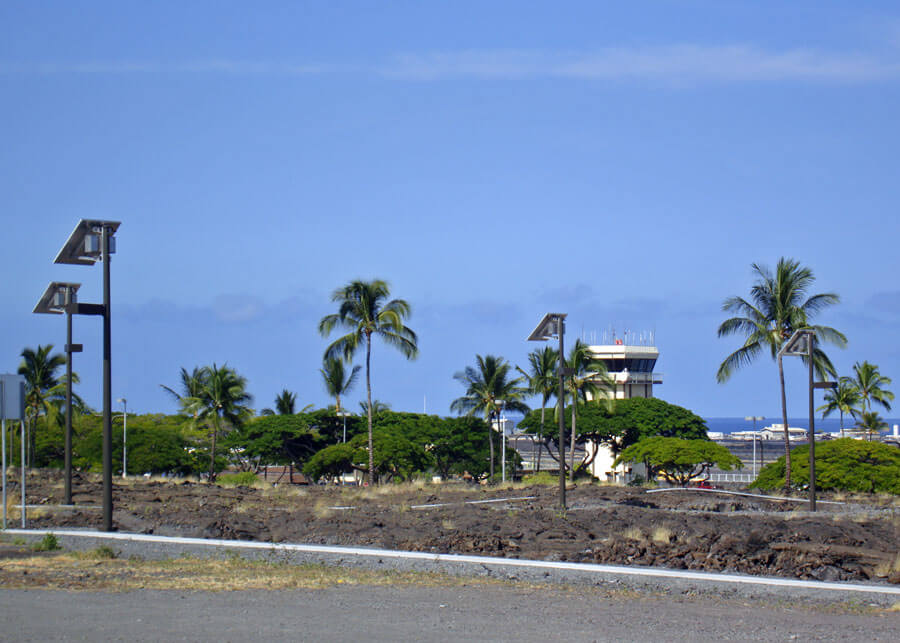 In total, 32 solar parking lot lights were installed on multiple long-term parking lot areas. They are sized to operate from dusk to dawn, year-round, and have five days of backup for inclement weather. The systems feature a vandal and theft-resistant battery setup, and the poles are rated to withstand 150 MPH wind loads.
The systems provide security for travelers returning on late flights. They have plenty of illumination to get out to their vehicles safely. This provides a better experience for travelers by allowing them to feel safe and secure during those late-night flights.
The lights also minimize effects on local wildlife such as sea turtles and birds, such as the Shearwater. By reducing light pollution and providing an amber light with no blue spectrum, these animals can migrate, hunt, and rest depending on the species without having the manmade lighting disturb their cycles. The high-pressure sodium lamps are not typically used with solar applications and have since been taken over by using amber LEDs. The Amber LEDs are more energy-efficient than the old-style HPS lamps used in projects like this.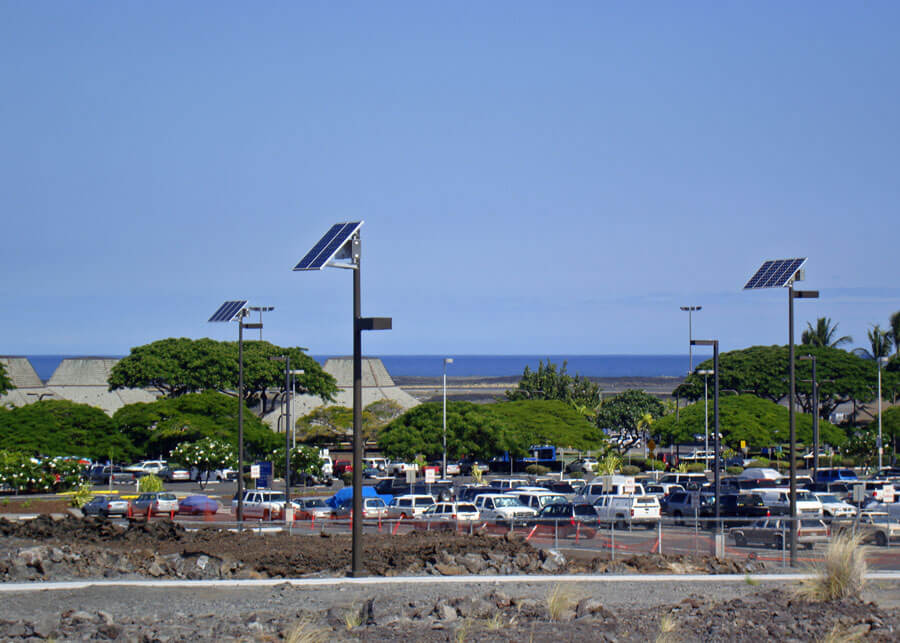 While SEPCO mass produces solar power assemblies for multiple applications, such as parking lots, roadways, signs, and so much more, these assemblies can be configured to provide remote power to many different lighting and power requirements, including some specialty lamps and fixtures. SEPCO used the Hubbell Lighting Oakland fixture for this project in conjunction with their solar power assemblies, providing a robust and reliable system. These systems, as of 2021, are 10 years old and are still in operation today.
SEPCO's technical and engineering experience in the industry positions SEPCO as a leader in the solar lighting market by offering multiple technologies to adapt to customers and the environmental needs of each project. SEPCO can use lighting technologies such as Light Emitting Diode (LED), Compact Fluorescent (CFL), Induction, High-Pressure Sodium, Low-Pressure Sodium, HID, and Plasma. SEPCO is also able to meet high light level requirements for roadways, parking lots, and security applications with various operating profiles through wireless controls.
Source link