Solar Lighting Systems for Parks and Playgrounds
Parks and playgrounds are a great place to gather with friends and family. From just playing on playgrounds, to running around on a field, to walking down trails and relaxing in nature, there are so many things to do at parks. Most parks close around dusk, but there are ones that like to stay open a little later. Proper lighting should always be installed in parks; however, there isn't always electricity available. That's where solar lighting systems come into play.
Applications for Solar
Solar lighting systems can provide so much for parks. They can light signs, information kiosks, trails, pavilions, parking lots and so much more. Since they are independent of the grid, they can be easily installed in any location in the park and provide the light necessary for the application.
Solar for Signs
Entrance and directional signs should all be well illuminated to help people navigate around a park. If the park closes after dark, only the entrance sign would need to stay illuminated most if not all night.
The solar lighting systems for signs are typically not very large and utilize flood fixtures that can operate at a much lower wattage. Signs can have single flood fixtures or use multiple fixtures on a single solar power assembly for large monument-style signs.
Solar for Parking Lots and Roadways
Large-scale solar lighting systems are used for parking lots and roadways. These typically feature fixtures mounted at 15-20′ above grade and are high-powered to provide adequate lighting for the area. The LED fixtures provide good visibility for safety and security for people moving around the park.
Solar for Boat Ramps
The solar lighting solutions for boat ramps are very similar to that of parking lots and roadways. To adequately illuminate a boat ramp, you would need a high-powered fixture that illuminates the area so boaters can safely get their boats in and out of the water.
The boat ramp lights can also be used as markers for others traveling along the waterways to know where the boat ramps are and where they are on a route.
Solar for Playgrounds and Pavilions
Playgrounds utilize pole lights that are mounted along the perimeter of the area. These are high-powered to ensure plenty of visibility and not too many dark areas. The lights can utilize motion sensors that allow the lights to reduce or turn off when the playground area is not in use. 
The adjacent pavilions where families tend to gather to watch the children utilize canopy fixtures. These setups have a roof-mounted solar panel assembly and a remote-mounted battery. Depending on the size of the structure will depend on how many fixtures are required to properly light the pavilion space.
Solar for Pathways and Walkways
Pathway and walkway lighting typically use low fixtures, such as the bollard fixture, or overhead fixtures mounted around 12-15′ above grade. These fixtures are lower in wattage and only provide illumination so people can move along the pathway and have enough visibility to see what is around them. 
Solar Lighting Operation
Timing is key to determining how long the lights need to operate. If the park closes at dusk, having the lights on an hour or two after dusk ensures that anyone still working on leaving can still see. If the park is open later, the lights can provide additional safety and security for people visiting the park after dark. The lighting can also provide additional safety for parks department personnel that need to secure the area at night.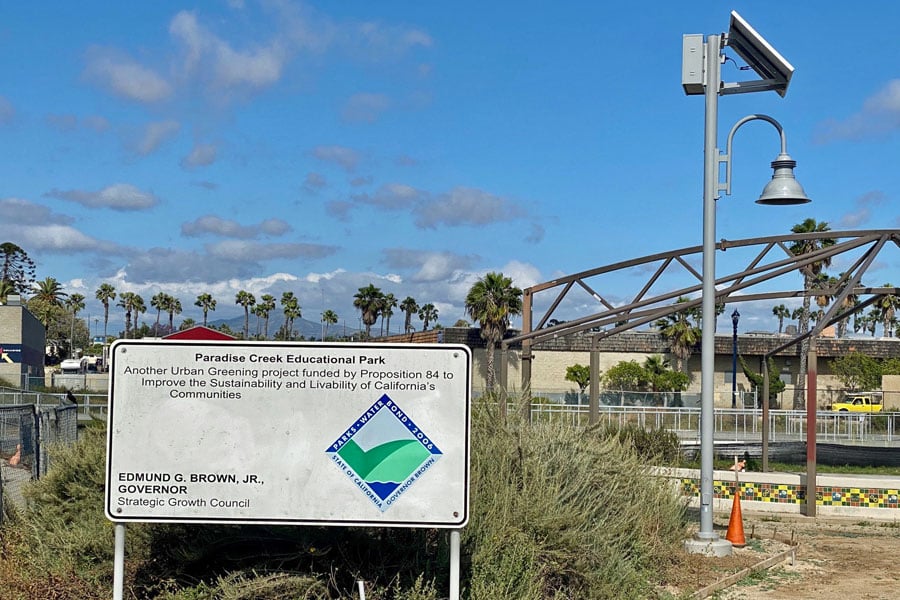 If the park is open early in the morning, before dawn, solar lights can also be programmed to come back on an hour or two before the sun rises. This way, people who are trying to get in that early morning jog can see where they are going and provide additional safety since their visibility will be increased.
Another way to have the lights operate is by using motion sensors. Motion-activated lights would allow for the lights to operate only when there are people present in the area. This way, the only time the lights are active is when motion is detected, allowing the least amount of solar energy required for the project.
No matter what the application is, solar lighting can help with any lighting problems a park has. Working with your local lighting designer or with the solar lighting company directly will help you determine the best solution to the problem.
Source link