Saving Your Energy Bills with Solid Wall Insulation at Home
Now that you are aware of the energy and environmental situation, you no doubt, want to do your bit in conserving both, if you're a responsible consumer. Sure, you would like to protect the environment but what if you could save mega bucks in the process. This is possible if you use this amazing energy saving tip – utilizing solid wall insulation.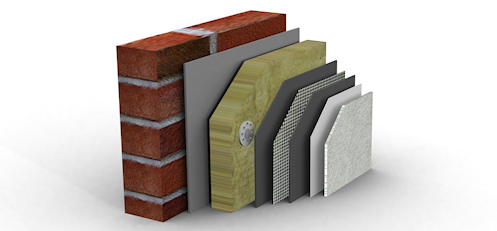 What is Solid Wall Insulation?
This is a process by which insulation is applied on either inside or the outside of wall surface so that the heat is trapped inside in the winters and kept outside during summers. This process is unlike cavity wall insulation, where the cavity between the walls is filled. It is much better since the latter can let in double the heat if the insulation is not done properly. As solid wall insulation is more effective, it is more expensive than cavity wall insulation and is also more cost-saving.
The two kinds of wall insulation are described below so as to help you decide the better option for you:
1. Internal Wall Insulation – When you are insulating the inner walls, then the insulation boards will be fitted on the internal surface or an extra layer of insulation material will be built. There are both advantages and disadvantages of this method.
Advantages of Internal Wall Insulation
It is a cheaper option than external wall insulation.
Disadvantages of Internal Wall Insulation
This type of insulation decreases the internal floor area as the thickness is approximately 10 cm.
Since internal insulation is generally soft, you may have some problem when you want to fix some heavy items on the walls.
When you apply insulation internally, your walls will not charge. Therefore, when the heater is away from the walls, they will not have extra charge.
2. External Wall Insulation – The outer surface of the wall is insulated in this method. As the insulation is outside, it is exposed to heat, rain, wind and other external environmental factors. And thus, special materials are added to the plasterwork to improve its quality.
Advantages of External Wall Insulation
It is easier to apply external wall insulation without spoiling the interior or your house.
It improves the exterior look and condition of the house.
It weatherproofs the house against, moisture, noise, rain, humidity and others.
It protects the interior of the house from dampness and condensation of inner wall by keeping the moisture out.
Disadvantages of External Wall Insulation
You may have some trouble getting planning permission when you are using external wall insulation and so, before you apply it, consult the local authorities for planning.
Before you opt for any of the above solutions for your house, it is advisable to understand the working and materials to be used. Also, know about building and energy efficiency regulations so that you do not have any trouble later on. Insulating the house enhances the energy performance and reduces thermal waste, thereby helping you save money on energy.
B. Lyttle is a keen gardener and an enthusiastic believer of frugal living ways. She loves the idea of using solid wall insulation for saving money and has been using it since the past 2 years now.
Source link