Renewable Energy: Questions Answered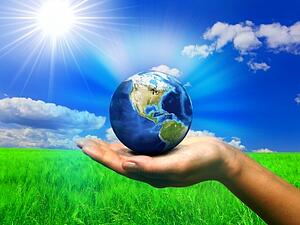 In a time of rising energy costs and environmental concerns, renewable energy is a hot topic, and one that we hear talked about politically, environmentally and socially. But it's not always clear what renewable energy is, and how everyday Australians can use and access it.
What is renewable energy?
Renewable energy is a form of energy that comes from natural resources that are easily replenished. The most common forms of renewable energy are wind power, solar energy, hydropower and biomass. Renewable energy is different to fossil fuels, such as coal, that are not easily replenished.
How can I use renewable energy in my home?
There are a few different options when it comes to using renewable energy in your home. Firstly, there is the option of generating your own renewable energy (most commonly via solar panels), and using that energy to power your home. Those that produce their own renewable energy can also sell unused energy back to the power grids.
Secondly, there is the option to purchase GreenPower from your energy supplier. Under the GreenPower program, the Australian government has added renewable energy to power grids. Energy retailers can then sell this power onto their customers to be used in their homes.
For the consumer, this makes it very easy to use renewable energy in the home with very little effort. It is also possible to only elect for a portion of your energy to be Green – whether that be 10%, 20% or 50% – as GreenPower is more expensive than purchasing regular energy from non renewable resources.
Why is renewable energy important?
Renewable energy is important because it allows consumers to make a difference to the level of Australia's energy emissions. It's also important in combating the negative environmental impacts of fossil fuels and the environmental concerns that surround our energy consumption.
Even if you elect for 10% of your energy use to be offset by GreenPower, you can make a difference, and ensure that Australia's resources last longer. Also, a greater demand for renewable and green energy will further the investment by the government and energy suppliers in renewable energy.
When it comes to renewable energy, many people think it is too hard to integrate into their everyday lives. . But using renewable energy is simple and effective. No contribution is too small, and you'll be making a real impact to the Australian environmental footprint.
Image courtesy of Danilo Rizzuti/FreeDigitalPhotos.net
Author Bio: Australian Power & Gas' David Goadby, offers simple tips for Australians to reduce their energy bills and adopt energy efficient practices. Australian Power & Gas is a home energy retailer committed to giving Victoria, New South Wales and Queensland residents a better deal than the big incumbent retailers – the Big Guys – and ensuring customers get award-winning customer service from a 100% Australian-based team.
Source link