Renewable Energy is Everywhere: Hotels Leading the Way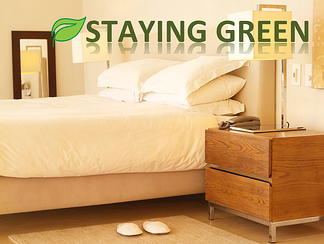 Through wind energy, solar energy, biofuels, geothermal industry and reuse methods, the world is changing to renewable energy and resourceful methods of handling waste. Just by looking at the travel industry, you can see how innovative some of the companies have become. It's necessary that this happens, and many businesses across world markets are realizing the rapidly increasing market for renewable energy. By looking at some of the businesses in the travel industry, it's easier to see how far technology has come and how much other businesses could contribute by adopting these sustainable energy methods.
Generating Power Through Wind Energy
A number of hotels across the US have changed over to wind turbines in favor of reducing energy costs. The Hilton of Fort Lauderdale has six turbines on the rooftop of their hotel, which has gained a lot of press and attention for being one of the only hotels in Florida to use wind energy. The hotel has said that more green changes are to come in the future.
New Solar Power Technology
There are a lot of boutique hotels that are also changing to sustainable energy through solar panels. In fact, a small luxury boutique hotel invested $80,000 in solar energy. It has been able to decrease its energy bills by 60 percent. This isn't the first small hotel to change over to solar power. With solar shingles and other methods for solar energy, it's becoming easier to install solar energy on any type of building.
The Power of Biodiesel
Biodiesel has become a popular alternative fuel, and it's quickly replacing petroleum products. Many hotels are using this fuel, such as the Hilton Americas-Houston in Texas, which recently received the Green Seal certification. The hotel converted to biodiesel as an alternative fuel that is eco-friendly. The hotel received its first delivery of alternative fuel in July. The new program to use biodiesel has resulted in reducing greenhouse gases produced by the Hilton by 78%.
Geothermal Revolution in Nevada
In Reno, Nevada, the Peppermill Resort Spa Casino built a geothermal aquifer 4,400 feet underground to create a huge heating and hot water system for the hotel to use. Now the hot water is pumped up to the property at 1,200 gallons per minute. It saves $2 million annually. Peppermill has said that it is the hotel in the US whose heating source comes completely from geothermal energy produced right on the property. Many hotels in the area are going green. This is especially important as it is one of the most visited cities in the U.S., the millions of travelers can take advantage of these facilities first hand.
Waste Elimination and Reuse
Hotels are also looking for ways to repurpose waste around the hotel such as oil from the kitchen and scraps from landscaping. The Greco Hotel chain in Greece has a catering service that used to produce a lot of packaging waste. However, it has eliminated much of its waste by using returnable reusable glass bottles. Other hotels have switched over to soap dispensers, such as the Stratton's Hotel in the UK, which use-to-use luxury miniature guest bathroom amenities. Now it uses dispensers for soaps and shampoos to cut down on waste.
Reduction of Water Usage
Many hotels are now offering discounts or other incentives to not require housekeeping and linen changes when staying multiple nights. Instead of replacing all sheets and towels every day on a couple night stay, they allow you to reuse your linens same as you would do at home. A lot of hotels are also now using a centralized, off site laundry to process all linens.
These are some of the facilities that are out in front of green innovation. They provide great green blueprints for others to follow. It is important that this trend continues and with this innovation, newer, more efficient products will be coming to market.
About the Author: Sam Marquit is an entrepreneurial independent contractor and home renovation/remodeling expert in New York. He's made it a point to share with my readers a day in the life of sustainable building. Forecasting the possible application and implementation of new green building materials and technologies is just one small part of his effort to reduce everyone's carbon footprint.
Source link