Options for Commercial Solar Outdoor Lighting Systems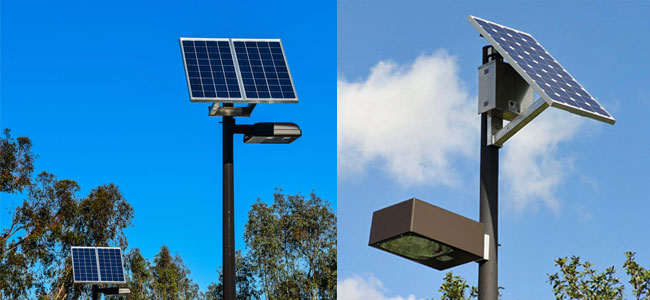 About 15 years ago or so, there were very few options for commercial solar outdoor lighting systems, but as technologies advance, more and more options are available for a custom system for your application. Solar light fixtures have advanced through the use of LEDs and aimed optics to allow for a range of commercial and decorative style lighting systems. Controls have also advanced to allow for adaptive lighting, motion operation, split timing and so much more. Solar has also come down in price while increased in efficiency for the size of the panels.
Solar Light Fixtures:
Old style Cobrahead, flood and shoebox style fixtures were about all that was used years ago when it came to your selection of light fixtures. The need for reflectors, refractors, and so much other equipment was required to get the light to shine down on the ground. Uplight started becoming a large problem with the light fixtures casting light in all directions.
With new solar light fixtures, we are able to direct the light where we need it. Uplight has been almost eliminated and the style line has increased to almost infinite possibilities. Using the same light board in one fixture as another allows for a range of fixtures to produce the same lighting pattern and levels as there industrial counterparts. This is great news for anyone looking for an option to match the architectural needs of an area.
Control Options:
Controllers have advanced in so many ways. Instead of just dusk to dawn or dusk for a number of hours, we are now able to do split timing, adaptive controls and so much more. Split timing allows for the lights to operate after dusk and before dawn for areas where all night lighting is not required. Dimming the LEDs has also become an option to lower the requirements of the solar and the added ability to increase to full where motion is detected has allowed for this to be used in more applications.
Please note that many manufacturers will allow for adaptive lighting in all systems and you should always be aware of exactly the programming provided for your system before purchase. This should be especially paid attention to when strict dusk to dawn is a requirement of your project. Request an exact operation schedule that includes a light plan of the light at full and at dimming. This way you ensure you will never be left in the dark.
Solar Power Assemblies:
Solar has increased in the power output for size. What used to take up a large area at the top of the pole has now been able to become much smaller in size, allowing for more light and power than before.  This is great for aesthetics since no more do you need a huge power array for a single light; well in most cases anyways.
Costs on solar power have also decreased drastically making the systems more affordable than before. The combination of increased power per size and decreased cost allow for the pricier LED fixtures to become mainstream and allowing for a complete system that was once only a dream. Powder coating of the metal work ties in the system that much more.
In the end, commerical solar lighting systems are moving right along by advancing along with the technology available. This is allowing for more and more options for the end user to customize a system to their exact need. The advances that have taken place over the last 10 years have been astonishing and I am excited to see what the next 10 years holds.
Source link