Happy New Year! What is Your Green Resolution?
Welcome to 2014!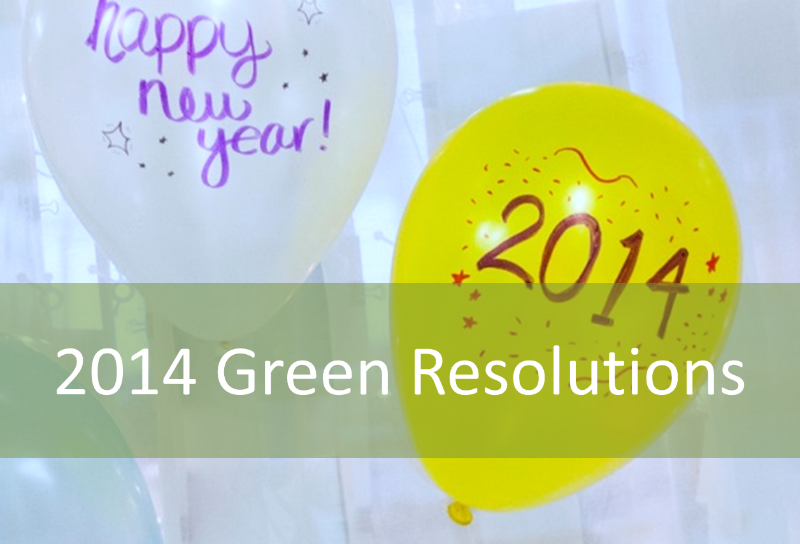 Resolutions are typically what everyone is talking about after the New Year. I am going to exercise more, eat better, spend more time with the family, etc. But what about resolutions for making the world a little greener? Is there anything you can add to your list of resolutions that will improve our planet? Here are a few that maybe you can think of implementing in 2014.
Ban the Bag
I hate it when I go to the store and forget my green bags at home. This year I am going to make a conscious effort to always have green bags on me and you can too. Keep a couple in your car at all times, even if you aren't planning on going shopping. I even keep small ones in my purse for those smaller purchases. And you can find green bags just about everywhere and you don't have to have one from each store, just as long as you use them when you go to the store.
Start a Garden
This one can range from a small container garden to overtaking your lawn into a huge garden. Grow something from a bunch of herbs to all the produce you could eat. With spring just around the corner, you can start building your garden now by planning and setting it up. When spring arrives, check out your local zoning and find what grows best where you live and what you love to eat. Do what you can to get the healthiest produce ever by purchasing heirloom seeds and stay as organic as you possibly can.
Stay Local
Make a conscious effort to purchase your needs and wants from a local small business. This can have a huge impact on your local economy since local businesses support your community organizations, create more jobs, give better service, and so much more. It also reduced your impact on the environment as it lowers transportation and creates less congestion. To find out more, visit Sustainable Connections and see what other benefits there might be to staying local.
Buy Reusable Items
Instead of purchasing throw away items, make a resolution to work toward replacing them with reusable materials. Paper towels are my favorite example. Instead of purchasing bunch of rolls for $8, spend that money on some microfiber or bar cloths. These are inexpensive and can just be thrown in the laundry to be reused. Don't get me wrong, there are a few things that are just yuck and a paper towel is perfect. I still buy them, but I only use them when in dire need and therefore go through only a few sheets per week at most. I'm sure there are more things you can find to replace.
Green Power
Make a switch to green power if possible. Can you afford to install some solar panels on your roof? What about switching your lights to LEDs and upgrading to Energy Star appliances to lower your overall electrical usage to make using solar power more feasible in the near future. There is also many other options available if solar power is your end goal. Check out 1 Block Off The Grid for some great information.
By working together, we can have a great year while lowering our impact on the environment. What is your green resolution? Share with us below!
Source link