Decorative Solar Lamp Post Lights on Salerno Road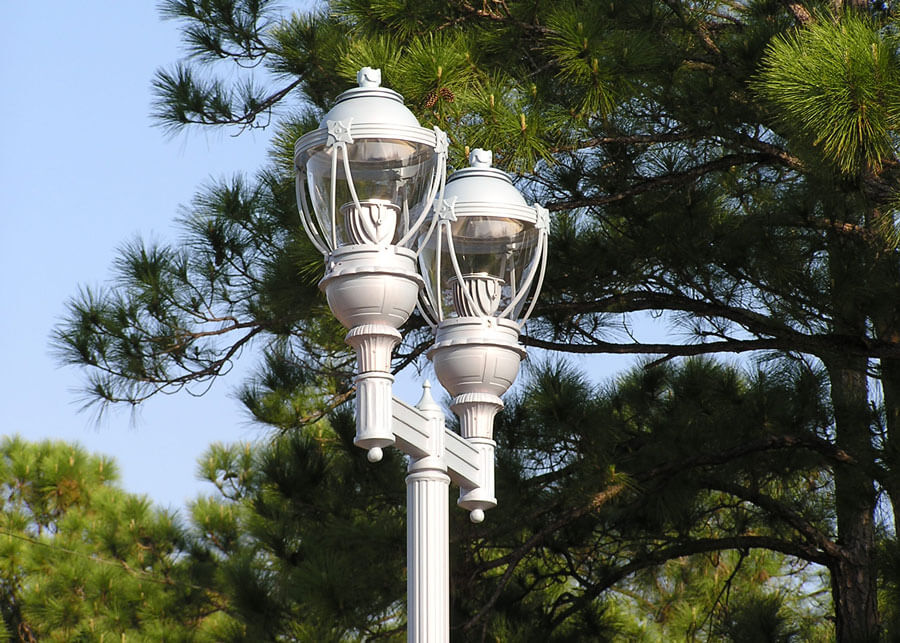 In August of 2010, the Martin County Traffic Division contacted Solar Electric Power Company (SEPCO) requesting a solution for a particular lighting application. In the recent past, the county had constructed a traffic circle on Salerno Road at the entrance to Indian River State College. The Traffic Division was worried that the newly constructed traffic circle would present an unexpected obstacle for nighttime drivers. There was virtually no lighting on the stretch of road involved; and there had never been any traffic lights, stop signs, or other traffic control devices present at that point on Salerno Road. A nighttime driver, who had not recently been on the same road during the daytime, could easily be unaware and crash into the traffic circle.
The Traffic Division decided the perfect solution to the problem would be to install lights at each end of the traffic circle in order make the obstacle more visible. There was only one problem, the traffic circle was located in the middle of the road and lacked any electrical infrastructure. In order to install conventional electric lighting, the county would have had to dig up parts of their newly paved road. The perfect solution was to install solar lamp post lights. The electrical grid is not required for this type of lighting, since the power source is located on or adjacent to the light pole.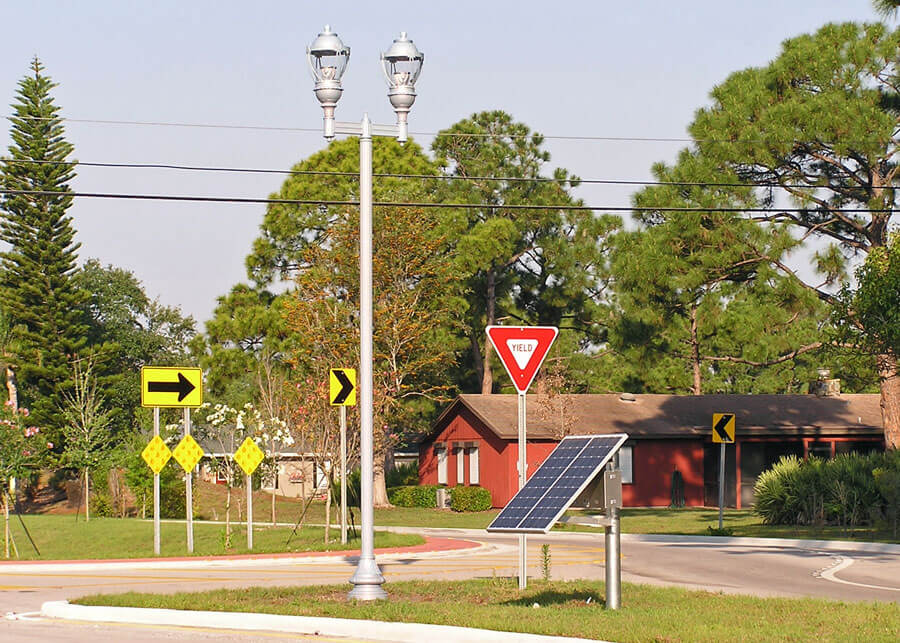 The Traffic Division requested that the new solar lights closely match a certain style of light already installed throughout parts of the county. The existing lights were a post top fixture with fluted pole and decorative base. The lights were painted a green color imitating the look of aged copper. SEPCO contacted their fixture partner Beacon Products, a division of Hubbell Lighting. Beacon Products recommended the London post top fixture powder-coated the color Old World Copper. This light was a very close approximation to the existing lights.
Finally, the Traffic Division stated the desire to keep the light poles as clean as possible and requested the solar power assembly be mounted beside the light pole on a separate pole. The final product consisted of two 17 Watt LED London fixtures mounted onto a single fluted pole with decorative base and a separate shorter pole with a 170 Watt solar electric power assembly. One of these assemblies was installed at each end of the traffic circle. The result was an attractive lighting solution providing nighttime drivers the ability to see a possibly unexpected obstacle.
Source link