Solar LED Lighting Fixtures Adapt To Needs of the Project
Why so many choices? There are multiple fixtures that can be utilized with a solar lighting system, and each fixture can be used for more than one type of application. Providing different options allows for customization of a system to provide the necessary lighting while staying with the look the customer wants. Here are some of the best examples:

The InGrade solar fixture can provide great lighting for smaller applications such as a sign light, bus stop, bus shelters, flags, area and landscapes, walkways and so much more. This fixture has the ability to be used inside an enclosure or on its own mounted in fixture housing. The picture shown is a great example of using this fixture in a bus shelter mounted within the battery assembly; however, the same fixture can be used for a bus stop light by just making a few adjustments to the overall system. This is definitely a very versatile fixture.

The Urban solar fixture can be used for larger applications for roadways, walkways, parking lots, parks, area, pavilions and so much more. These decorative fixtures provide amazing lighting due to the LED technology, are dark sky compliant, and can even be configured to be turtle friendly with ease. These fixtures mount on the side of the pole from a decorative arm bracket or from above underneath a roof structure if needed. They provide a range of optics and distribution patterns that allows for adaptive lighting to whatever the need of the project without losing light levels on the ground.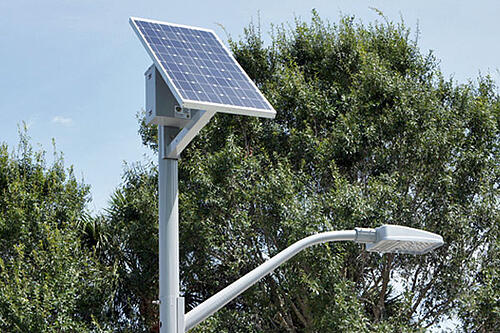 The Viper fixture is another versatile fixture. It is a great cross in style between a standard Cobrahead and Shoebox style fixture and easily can adapt to many different situations. This fixture is typically used for roadways, parking lots and area perimeter lighting; however, it can be used for just about all overhead lighting applications. This fixture provides a lot of light even at lower wattages and also offers a wide range of optics and distribution patterns for adaptive lighting. The same fixture can be used with different optics on different areas of the same project ranging from Type II to Type V Square distributions and many in between. Best of all, this fixture is dark sky compliant so all the light is pushed where you need it.
As every customer has a different application, customizing the fixture to the needs of the project will provide the most efficient solar lighting system. There is no reason to use large floods on smaller applications, just like you wouldn't want a small, low wattage fixture to light up for security, roadway or parking lots. Make sure your fixture does exactly what you need it to do, or don't hesitate to ask for a different option. Your lighting designers are there to provide you exactly what you need for your project.