Reduce, Reuse, Recycle: What about Repair?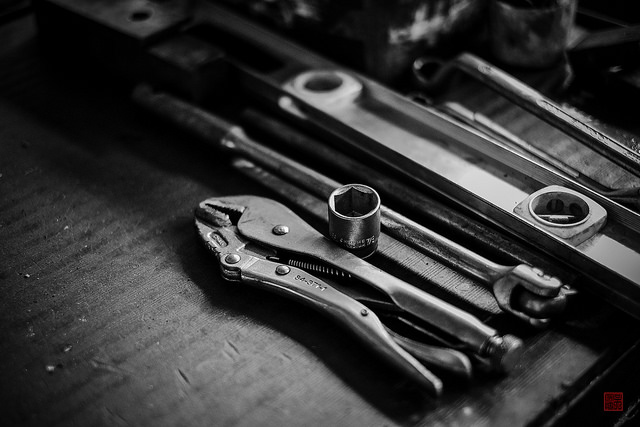 I know since I was a little kid that we have been learning about the 3 R's of living a more green life; Reduce, Reuse and Recycle. Something that seems to have fallen into the shadows many years ago is Repair. Instead of getting rid of that broken item, repair it to allow it to continue to be useful. A lot of things you can repair at home, others may have to be taken into a shop or have a technician look at it, but in almost all cases, the item can be repaired.
I came across this great article, The Forgotten 'R': Repair by Elizabeth Royte a while back and it got me thinking. How much stuff do I myself, a green professional and person, get rid of over the year that is broken but can actually be easily repaired? Now, instead of just throwing out that carpet shampooer that won't do what it needs to, or the drawer of the fridge that is cracked, it is time to get out the tools and fix this stuff. If I can't do it, I'm sure there is a repair shop somewhere in my town that can fix things.
One thing noticed in the article is the disappearance of repair shops. Manufacturers are making products that they want you to throw away once they break so that you purchase new products. There is something really wrong with this mentality. We have become a wasteful society, and with the increase of global warming and waste being a huge contributor to this, we should be looking for ways to reduce our impact by repairing items. Now, repair shops are starting again, popping up all over.
What to do with that item that just isn't repairable, where no amount of glue, wiring, screws, etc. will ever make it perform the way it was intended again? We recently looked into Upcycling where you take unusable items and turn them into something new and amazing. If that item really can't be repaired, look at it from a different angle and see what it may be able to become and breathe some new life into it. Save the unused tiles from a project and create a new top for that scratched up table that you don't know what to do with. Go online; there are thousands of ideas all over the internet. Don't know what to do with that broken item and don't have the time to turn it into something new, advertise it on Craigslist or Freecycle and let someone else take a crack at it.