People's Climate March and the UN Climate Summit 2014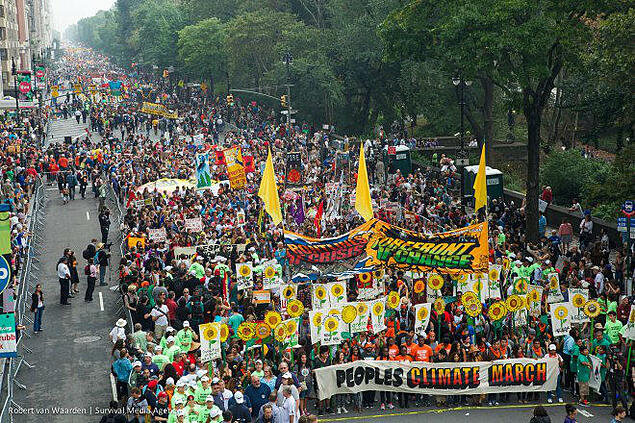 Last Sunday was one of the largest climate rallies ever, the People's Climate March in New York City. Climate changes have been on people's minds since the '60s and '70s, but realizing that we need to do something now is pushing people even harder, as we have already damaged the climate permanently, and there is worse to come.  Many big names were out there in the crowd, along with everyday citizens, to demand action in the UN Climate Summit in New York on 76Sept 23.
Leonardo DiCaprio made one of the best speeches I've heard in a long time, see here:
I think my other favorite video this week was Jon Stewart's video Burn Noticed:
So now what? Well, some great ideas were put up and set to be put in action. The Green Climate Fund, which was established in 2009, was set into place to help developing countries move away from fossil fuels; however, it has not been kept up with and is not meeting the goals set forth. Pledges were taken at this year's Climate Summit to push this program further ahead; however, most wealthier countries, including the US, need to get on the boat and make their pledge.
Carbon emissions were of course one of the largest topics. Countries including Ireland and Chile are working towards reducing their carbon emissions; however, we need large industrial countries such as China and India to jump on board to make a real impact. So are they doing this? 2014 Was the lowest coal consumption year in the past decade for China and they are working to lower their consumption even more. As for India, no one knows as they didn't show up to discuss their input, but we will see in time what they do.
Food security was another hot topic on the list, along with deforestation. Deforestation is on a track to be cut in half by 2020 and finally ended in 2030. Will there be forests or even trees left by 2030? I guess we will see. One of the worst deforestations is due to the Palm Oil industry; however, large companies are finally getting involved and making zero-deforestation pledges and deforestation-free sourcing of palm oil.
As for the future, UK Prime Minister David Cameron wants leaders to strike a deal in Paris. He states, "We must agree to a global deal in Paris next year; we simply cannot afford to put it off any longer." Maybe this is a good idea, a yearly meeting instead of every 5 years; help keep everyone accountable for their actions and track for a global change.
All in all, the rally helped raise awareness and showed the people's support for action, as well as showing the UN how much everyone (well, almost everyone) wants change to happen immediately. We all want a green and clean world for our children for generations to come, but we need to start somewhere. Every drop in the bucket towards making the world better is a step in the right direction.